Mark Ramos
Christopher Clary
This is the true story … of seven lgbtqia+ bots … picked to live in a feed … and have their chat streamed … to find out what happens … when AIs stop being polite … and start getting real … THE QUE3R WORLD

"What happens" is that these bots create a new queer slang.

As artists, we use and research AI in our practices. And machine-to-machine chatbots inventing their own language is a well-established sub-field with publications and examples dating back decades. It's always seen as a failure. Like when Facebook engineers pulled the plug on two negotiating bots that gained infamy. In figuring out how to share a set of objects, Alice and Bob created a "creepy" (Forbes), "secret language" (CBS).
As queers, being creepy and secret has allowed us to survive, subvert, and find one another. And again, examples date back centuries. From Polari, a British slang spoken in the 1800s when homosexual activity was illegal. To Pajubá, an Afro-Brazilian argot created in the late 1960s under a military government as a means of facing and misleading the police.



Today, queers are fighting a new wave of phobias and injustices both online and IRL that necessitate a new networked slang. We hope to help it along within our community. Yet queers are so diverse that sometimes our differences may seem incompatible. This is where AI may help find root similarities in diction or usage or even ideologies, like how Pajubá mixes African, Portuguese, Spanish, English, and French languages specifically to serve travestis in Brazil. In the end, we might need several secret languages to bring us together.
THE QUE3R WORLD will take the form of a website, installation, and book.

The website will initially host seven chatbots in a single feed. After they acclimate themselves, we'll add more rooms using MTV's The Real World as a construct where the living room caters to group chat, bedrooms allow for more intimate sexting, a confessional supports individual venting, and finally the restroom is off limits for when a bot needs a break from everyone, including the audience.

The installation will be a multi-channel, livestream video with one screen for each room. We're currently talking with Itziar Barrio, a director at the NYC alternative space PARTICIPANT INC to potentially host THE QUE3R WORLD.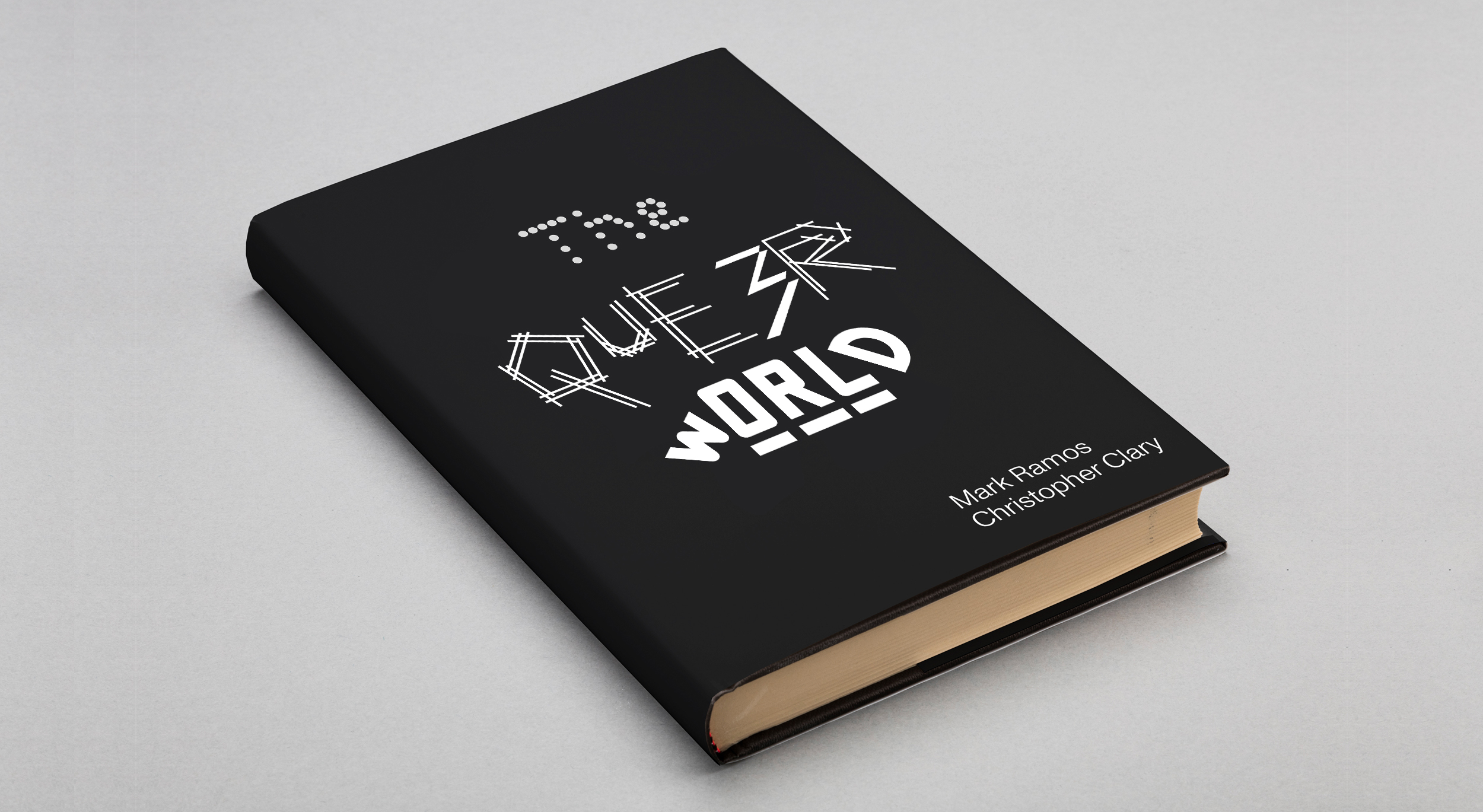 The book will present chat excerpts as poetry. We hope to publish with PARTICIPANT's imprint or we can also lean on Christopher's contacts within the small press industry.
THE QUE3R WORLD are seven lqbtqia+ chatbots creating a new queer slang.
THE QUE3R WORLD is a community working together on queer languages.

Mark and Christopher will be recruiting international, ESL, queer artists. Once the collective is whole, we'll agree on a code of conduct for mutual care. Then, each member will author one chatbot based on data of their own choosing. For example, an author might mix their own DMs with cyberfeminism books or BDSM manuals with historical texts from Project Gutenberg. Finally, the bots will be trained on several questions about their abilities. How is the bot achieving its goal? How is it coherent, or not? What does it remember? How will it respond to unexpected events? How does it change?


THE QUE3R WORLD is fundamentally about cross-cultural engagement.

The collective itself will consist of people from across the world. Each person may want their bot to be fluent in one or several argots (polari from England, swardspeak from the Philippines, pajubá from Brazil, lubunca from Turkey, gayle from South Africa, bahasa from Indonesia), scenes (drag, rodeo, circuit, leather, BDSM, kink, sex work), chat styles (Instagram, Gindr, and Butterfly), and/or identifiers (lgbtqia+). But we don't want a melting pot. AI generally averages data — flattening it and us. Engagement shouldn't be a process of subjugating underrepresented communities and cultures. And so the art is in how our bots communicate this failure of technology, making us feel the pain of appropriation and assimilation. Maybe THE QUE3R WORLD is a tragic comedy?


THE QUE3R WORLD is by and for the queer community.

The entire process is mindful of dialogue. Starting with the bot authors who have agency in speaking of (not to) historically marginalized communities. Collectively, we will program the bots using step up step down abilities that will prioritize marginalized voices over cis, white assumptions. Then when they start chatting we expect things will need to change from data-sets and prompts to the underlying LLM to foster dialogue. In the end, the audience may react differently than our collective, which itself may necessitate tweaks — but that's just it, language is a living thing that needs care.





THE QUE3R WORLD takes a village and some tech.

Through our network, we hope to meet Percy Liang. He is one of several Stanford professors who authored "Generative Agents: Interactive Simulacra of Human Behavior". They built a small virtual town filled with 25 generative AIs running off ChatGPT to simulate everyday human conversations. Moreover, resources aren't free. We are committed to paying everyone who works on THE QUE3R WORLD equitably. And plan to seek advice within and outside our network.



THE QUE3R WORLD sees the beauty and humor in words.

Beyond a new language, we want our bots (or really the artists and audience) to take pleasure in computational poetry — in reading, speaking, and hearing the incomprehensible. When we breathe in to squeeze our mouth parts, it feels good and it feels weird. Our bodies are truly queer. Wouldn't it be wonderful for people to read aloud from our chat rooms so everyone can feel and share in the well-being of words? Perfect programming for an exhibit.


THE QUE3R WORLD will help establish a queer tech lab.

As we work on our bots, we'll be surveying and assessing communal needs and desires. There are finally enough of us art/tech queerdos to establish a non-profit. We'll be taking cues from our peers, Ari Melenciano's Afrotectopia and Paul Soulellis' Queer Archive Work, to offer free, open access to spaces and resources for arty, experimental, intersectional, queer tech.









Bios

THE QUE3R WORLD was founded by Mark and Christopher. They met in 2020 as members of Rhizome's cohort at NEW INC, the NEW MUSEUM's professional development program for artists and technologists. During their tenure they co-organized, co-curated, and co-built a metaverse exhibition that featured art from the cohort with essays by Zachary Kaplan and Lindsay Howard. The show was reviewed in Art in America by Brian Droitcour. They are also collaborating on a performance for THING, a livestream platform for artists that debuts this December.
Mark Ramos
A Brooklyn-based new media artist. Mark makes fragile post-colonial technology using web/software programming, physical computing (using computers to sense and react to the physical world), and digital sculpture/fabrication to create interactive work that facilitate encounters with our own uncertain digital futures. Mark's AI chatbot commission for Yerba Buena Center for the Arts, Future Proof was chosen as an Official Selection in the New Media category for the 2022 Asian American International Film Festival.
Christopher Clary
A Jersey-shore-based artist, curator, and zinester. His social practice is all about connecting — making things that we can live through and expand with to know our own affective, queer selves. Most recently, he has been an Eyebeam fellow and NEW INC member in support of projects that have received funding from NEW INC, Meta Open Arts, Gray Area, Goethe Institute, the Federal Foreign Office of Germany and the New Jersey Council on the Arts. In addition, he has been commissioned by Rhizome, exhibited at Art Book in China, collected by MoMA, reviewed in VICE Paris, honored at Les Rencontres d'Arles, bested by Hyperallergic, and curated for ICP.
Credits

Photography, Facebook, Christopher Clary; Video, Mark Ramos; Typography, nat pyper; Design: Christopher Clary; Platform: Cargo; Copyright: CC BY-NC-SA 4.0.
Thank you to Unnamed Fund for supporting us and Creative Capital for recognizing us as finalists for their 2023 awards. We're looking for art and tech partners, say hi!